In the pantheon of excellent videogame sound effects, the metallic ka-ching! that indicates my team pulled off a combo in Anthem ranks just below that iconic M1 Garand ping. It's a punchy crescendo and a reward for smart teamwork, afflicting enemies with an elemental status effect from one ability so that my team can "detonate" it with a second one—triggering a massive burst of damage that melts all but the toughest opponents. In those moments, as my squad uses our abilities in concert to trigger combos one after the other, Anthem is fun. But that fun stops the moment the battle wraps up and I'm forced to deal with all the tedium and frustrations of Anthem's other activities.
Anthem is a bog-standard multiplayer loot shooter like Destiny 2 or Warframe. I team up in a squad of four (or go it alone, if I want) and head out into a stunningly gorgeous open world to complete missions, shoot a lot of enemies, and get some loot. The twist—because there's always a twist—is that Anthem tries to weave these overly familiar systems together within the kind of sprawling narrative that BioWare is known for. After missions with other players I'm left alone to explore the cobblestone streets of Fort Tarsis, my home base. It's here that I pick up new missions, change or craft equipment, and converse with a variety of eccentric characters. But here's the thing: Fort Tarsis sucks.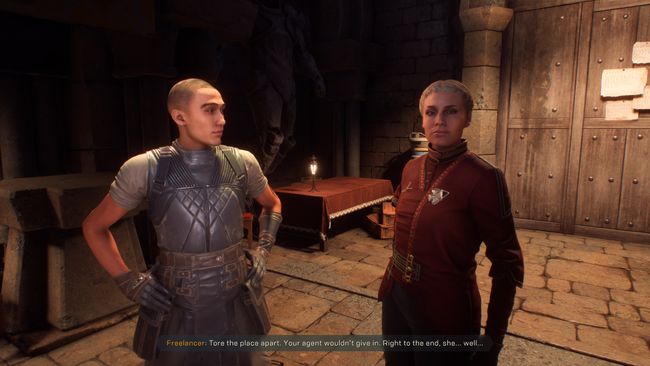 This house is not a home
Fort Tarsis is completely unlike the buzzing, claustrophobic bazaar first shown in Anthem's announcement trailer. There's no sense of life to it, just a city full of mannequins miming fake conversations that look ridiculous if you stop for even a moment to watch them. While plenty of other games feature lifeless NPCs like this, it's especially noticeable because Fort Tarsis is experienced from an intimate first-person perspective. It's easy to see through the illusion when you have a front row seat.
Fort Tarsis is also annoying to navigate, scattering its quest-givers to every corner and then restricting you to a slow jaunt. Like everything in Anthem, it's gorgeous, but after walking the same hallways several dozen times, I wish it didn't exist.
Much of that is because, unlike past BioWare games, Anthem mostly fails to communicate why places like Fort Tarsis and the people who inhabit it matter to me. During the intro, I'm simply told that I belong to a loose guild of pilots that fly Iron Man suits called javelins to help people and silence dangerous relics scattered across the world. Then, one day, a relic explodes and creates a world-threatening supernatural storm. Our guild, called freelancers, can't stop it and now people don't like us anymore—for some reason. This is all dumped on me in a minutes-long intro sequence that feels completely toothless.
Unlike Dragon Age and Mass Effect, which both have clever twists on familiar genres and establish emotional stakes early in the story, Anthem doesn't create that same sense of purpose or understanding. So even though I'm trying to immerse myself in this world by reading all the bits of lore and conversing with every character I can, the whole thing feels superfluous.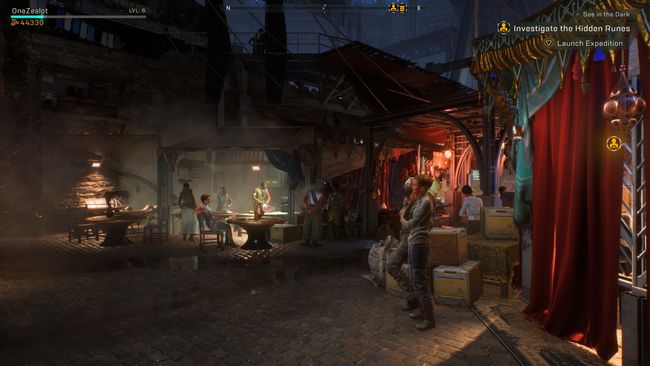 That wouldn't be a problem if, like Destiny 2, Anthem didn't insist that I interact with its story. After every mission, I'm dumped back into Fort Tarsis where I have to walk its overly long hallways for the hundredth time to have a largely one-sided conversation with some eccentric character or another. Fantastic voice acting and gorgeous character designs make these conversations tolerable, but I feel like a douche—instead of listening to what these people have to say, I'm usually just fawning over how pretty they all are.
Though they'll chatter in my ear during missions, these characters are usually left behind in Fort Tarsis when I adventure out into the world. I never really get the sense that we're on an adventure together like the crew of Mass Effect's Normandy, which makes their predictable revelations feel artificial and forced. Each time I return home to Fort Tarsis, I know Owen, my sidekick, is waiting for me so he can all-too-willingly peel back another layer of his troubled backstory. I should feel sympathy for all the things he's endured, but I'm mostly just counting the seconds until I can get back in my javelin.
But, once again, Fort Tarsis somehow finds a way to even make readying my javelin for combat and taking on missions feel tedious. Instead of being able to access my equipment anywhere I want, I have to physically walk to a machine called the Forge and sit through a short loading screen just to swap guns or try out a different javelin. And even once I'm suited up and out in the world, a lot can get in the way between me and the satisfying ka-ching of Anthem's clever combo system.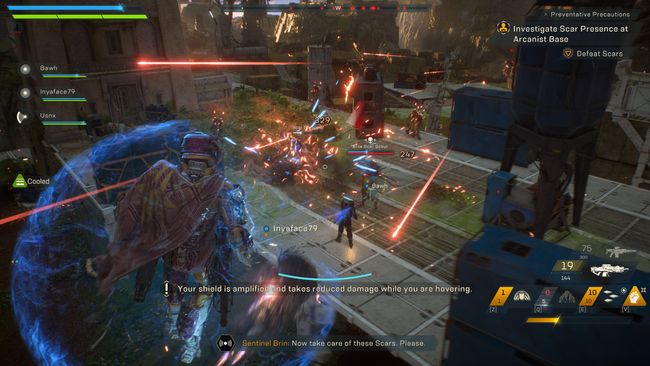 The world beyond the walls
Once I'm actually in my javelin, Anthem becomes a lot more enjoyable. Not only are the lush forests and ancient temples of the world outside Fort Tarsis painfully gorgeous, it's incredibly fun to traverse them. Javelins have limited flight capabilities that let me soar through the air with grace and ease (thanks in part to much improved mouse and keyboard controls from what was in the beta). It's thrilling to nose-dive down waterfalls or weave through crumbling ruins, strategically flying close to bodies of water to cool my jets and extend my flight time.
Bastion is a big and wondrous place, and when taking in the sights of enormous alien constructs, I find that sense of mystery that is so sorely lacking in the story. The best way to explore this world unhindered is using free-play, which drops you into Bastion without a specific objective so you can harvest materials for crafting or complete world events that pop up occasionally. It's fun to just ignore all of that and fly around, though.
Missions and dungeon-like Strongholds send you into the world with more purpose at the behest of characters back in Fort Tarsis. And while Anthem's combat is a lot of fun in the moment-to-moment action, the actual mission objectives are boring and repetitive. More often than not, my squad is killing waves of enemies, defending some objective, or gathering glowing bits of energy and dropping them off at a specific point.
Characters back in Fort Tarsis communicate via radio, trying to add bits of context to my actions, but, like the story, it's just white noise that I don't care about. Does it really matter that I'm saving the world by turning off this volatile alien machine if all that it requires is gathering and returning the same glowing orbs again and again? Though my time with Anthem has been relatively bug free, I've had to abandon missions and start over multiple times because objectives failed to register.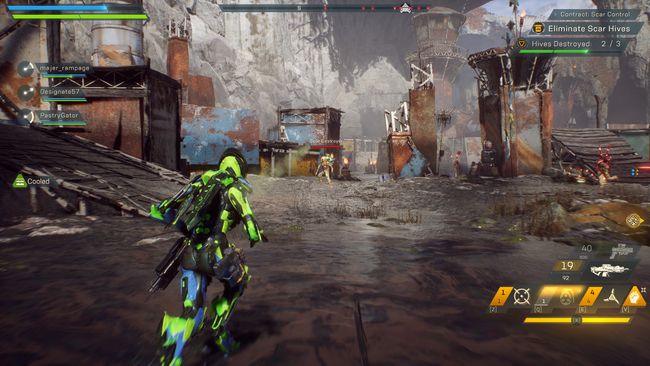 The saving grace in all of this is that fighting enemies in Anthem is a lot of fun thanks to the combo system. Each of the four javelins I can pilot has a very distinct style inspired by traditional RPG classes. The lumbering Colossus, for example, has a giant shield and can taunt enemies to draw their attention for a short time. My favorites, though, are the Storm and Interceptor—the mage and rogue of the group—as each kicks significant ass in very different ways.
As the Storm, I'm a fragile but formidable mage that can spam abilities to set my team up for combos (or detonate them all on my own). I love hovering over the battlefield, raining down fire balls and thunderbolts, hearing that satisfying ka-ching as I vaporize entire groups of enemies. The Interceptor, however, is wickedly agile and excels up close in melee combat. Unlike Destiny 2 or The Division, cooldowns on abilities are much shorter, and I love that I'll often go a whole fight without firing a single bullet as I rotate through my different abilities.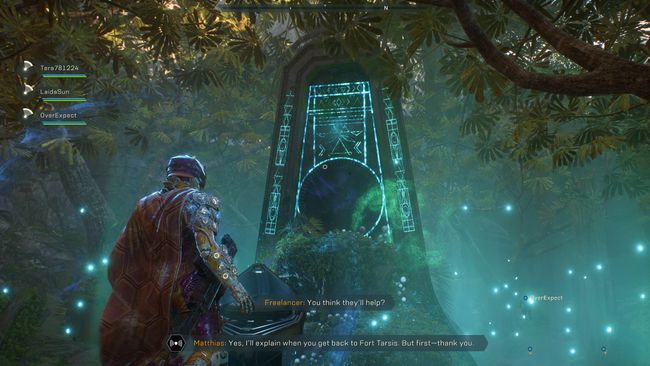 Even then, there's a lot that annoys me about Anthem's combat. Losing all your health puts you in a downed state where your team has to revive you. In most areas you can revive after suffering through a loading screen (more on those in a bit), but that sometimes means having to sit and wait minutes in areas where respawning is restricted. If the fight is particularly intense or I died in a bad spot, it can be impossible for one of my teammates to revive me. I get that part of being good at Anthem is to be careful about positioning, but it's frustrating to sit there helplessly for such a long time. It'd be nice if I could at least crawl to a safer location—especially during those missions with restricted respawns. And if one player forges ahead of the party, everyone left behind will be given a certain amount of time to catch up before they're teleported forward. This wouldn't be so bad, but doing so requires having to sit through a loading screen.
That's just the tip of the iceberg when it comes to my frustrations with Anthem's loading screens, which are so painfully long and numerous that it's baffling. Different parts of Bastion are tucked behind loading screens, and missions will frequently send you to these places for just a minute, before turning you around and having you sit through another loading screen as you exit them. When finishing a mission, I have to sit through an overly long after action report and then a loading screen to enter the Forge just to see and equip new gear. Then there's another loading screen just to enter Fort Tarsis where, more often than not, I'm going to immediately turn around and queue up a new mission which triggers yet another fucking loading screen. It's maddening.
If you can't tell, I'm not enjoying my time with Anthem. The combo system is a clever innovation that rewards teamwork and aggressive but smart use of my javelin's abilities, but that's about the only worthwhile thing I like about Anthem aside from it being gorgeous. I prefer my BioWare games to be ugly on the outside and beautiful on the inside. Hopefully the story takes a sudden turn that sparks my interest and makes all these characters and bits of lore matter, because there are better RPG shooters I could be playing instead.